Portfolio Insight
Portfolio Insight is TrustFort's flagship advisor portfolio accounting system. Designed to convert from either raw custodial files or in-place legacy systems, it is an independent, web-based system that is easy to adapt and supports your IN and OUT user access with a high level of security.
Portfolio Insight provides a complete suite of services including: account aggregation and reconciliation; cost basis and performance reporting; fee-billing and commission calculation, database maintenance and migration services. Below is a comprehensive representation of TrustFort's services.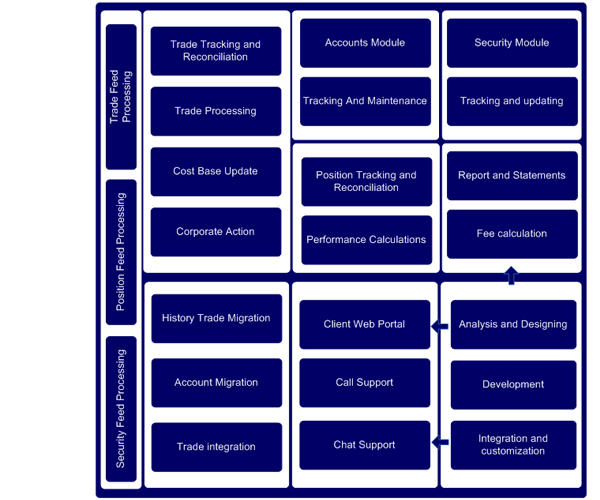 Accessible by either home office or branch office personnel, the system includes following portfolio information modules:
Security Master - this allows transactions across sources to be tied together with a common reference so that security information and pricing can be shared.
Transaction/Position Translation - this allows transactions and positions from multiple sources to be converted into a common format allowing seamless account aggregation.
Portfolio Accounting - this modules processes transactions, corporate actions and cost basis updates and maintains the accounting data for the investment portfolios. It also allows you to view portfolio state at any point in time historically.
Performance and Analytics - these modules create portfolio risk analytics information and portfolio performance metrics giving a very rich view of the investment portfolios.
With a common account database and a common security master, it is possible to consolidate information from different sources, across multiple accounts and dimensions - accounts, household, security type, asset class, industry, Morningstar classification, etc..
Monthly performance figures can be viewed online and downloaded as PDFs, and users' desired report settings can be stored for convenience.
Users can see actual accounting information (e.g., realized or unrealized gains over different periods), including cost basis information, if it is maintained. Since positions are constructed from transactions, the reports can display the portfolio for any point in time. The reporting section has additional data elements that can be selected for different views, such as risk attributes and other analytics (bond analytics, equity risk analytics) calculated at the portfolio and security levels. Full portfolio accounting also includes a corporate action module, enabling the user to apply any kind of a corporate action event using basic building blocks.
Premium Features
The following features are available for an additional fee:
1. Custom Classification - ability to modify or add new classification scheme to security master
2. Custom Benchmarks - option for advisor to add any security or blend of securities as a benchmark
3. Client Access Portal - allows client to view specific reports online
4. Custom Transactions - allows advisors to customize transaction types
5. Direct Transaction Entry - allows advisor to record and edit transactions directly
6. Daily Performance - enables daily return calculations in addition to monthly returns
7. Mobile Apps for portal access - allows cell phones and PDAs to access the PIMS portal
8. Model Portfolios - ability to create models and track portfolio deviations from model
9. Portfolio Rebalancing - ability to create differential trade for closing the gap between model and existing portfolio.
Important Considerations
Own server vs. shared server: If you choose to maintain a separate server for your accounts, there will be a nominal add-on fee for maintaining the data separately.
Commission Calculation:Access to this module would be available to home office users only.
Connect® product – which now owns an estimated 70% of the market. When you are considering a new technology initiative, our innovative strategy team can help you:
Reduce time to market
Eliminate needless expenditures
Leverage existing technologies before creating all new platforms
Build on existing processes; minimize disruptions
Enhance your strengths and overcome your weaknesses